The Italian coast of Amalfi (Costiera Amalfitana) is a high point of attraction for foreign tourists as well as Italians, and the pictures and paintings of this area are some of the most attractive and idealized all over the world.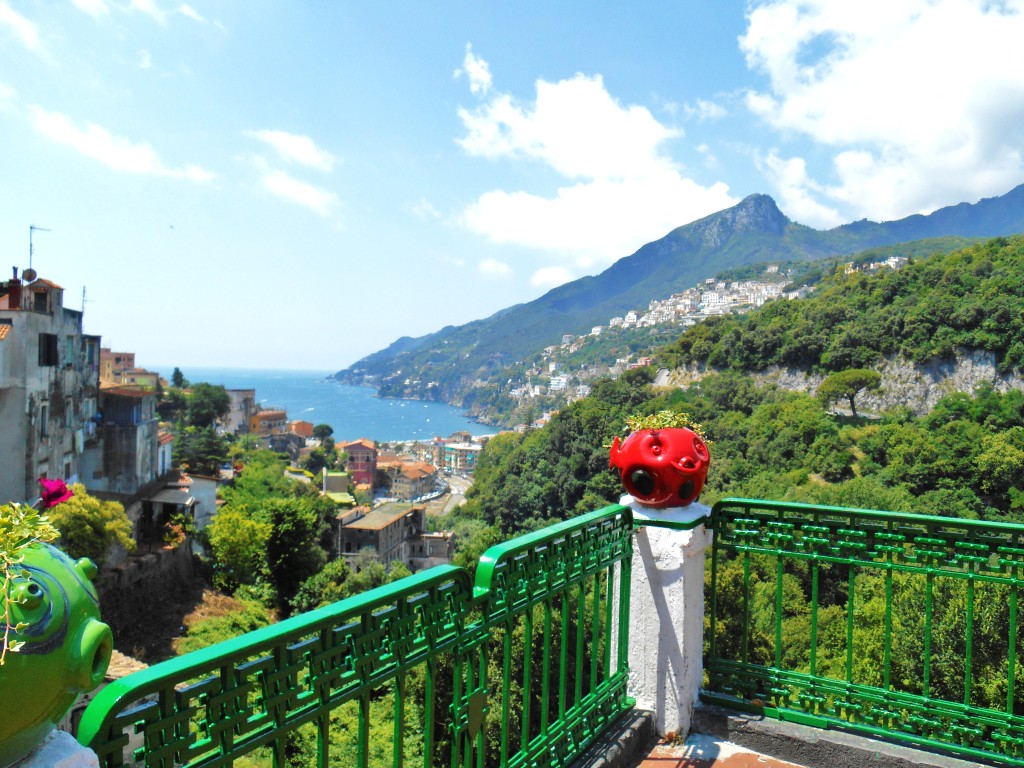 The coast starts just South of Napoli (Naples), on the Sorrentine Peninsula, and extends from Positano to Vietri sul Mare.
With colorful buildings topping each other in precarious positions over high rocks by the Tyrrhenian Sea, this area is not to be missed when visiting Italy. Wavy and narrow roads pass between old stores selling colorful souvenirs and restaurants tempting us with their tasty, fresh and aromatic foods.
Bakeries and gelaterias (gelato shops)…. older people on benches watching others go by… the colors and flavors of Italy.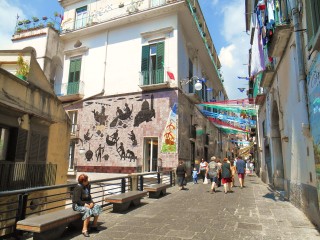 After visiting Ravello and Amalfi for one day with a friend, I decided to see more of the area and moved from Napoli to a hostel in Salerno. Set in an old building with an interesting history, the hostel Ave Gratia Plena is in a good central location at great price with nice, friendly personnel, yet it is a noisy building. With doors that can wake bears out of  hibernation as they open and close all night long, this hostel is not a place one can really sleep in. My stay here was going to possibly be extended but after one night, mostly awake, and a few walks through a town that did not impress me much, I decided to move on to the next adventure.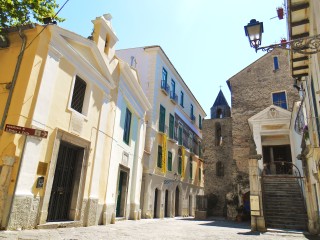 The best part of my stay in Salerno was getting out of the city, to the Amalfi Coast. Before noon I took a city bus for 1.30 Euro to Vietri Sul Mare. A better option would have been the SITA bus, which goes all the way to Amalfi for a better price. I took SITA back from Cetara, 5km further than Vietri sul Mare, and the price was just 1.10 Euro.
Located high above the sea, Vietri Sul Mare has a great view of the coast and a pretty downtown area lined with colorful ceramic shops. The town is well known for its artistic ceramics and a big orange and green tile and glass building, a huge ceramic factory, welcomes you to town when coming in from Salerno.
The next town from Vietri sul Mare is Cetara. The road between the two goes slowly downhill for about 5 km, the perfect connection between a high and a low point on this marvelous coast. I walked along this narrow road alone, jumping on the waist high cement wall when a car approached too closely. Often stopping for pictures and enjoying the view, the walk downhill in the sun was pleasant. I reached the small town of Cetara blessed with a farmer's tan and I enjoyed the small beach extending right from the main street downtown. The water was great and I fell asleep on the beach in an effort to correct my style of tan. A day worth living!