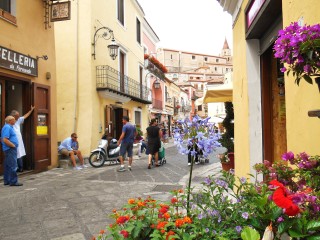 High above the
Tyrrhenian Sea
, on the narrow coast of
Basilicata
, sits the old and charming town of
Maratea
. Its narrow streets weave up and down the mountain and the main central piazza is picture perfect from every angle.  The colorful tile stores are set in old buildings with rustic rooms and ceilings and one can find restaurants and hotels in the same style.
A local told me that the city became known in NY for a picture exposition (or advertisement?) in the Central Station. This same person said that the area is known as the town with 44 churches and foreigners come here to get married in this beautiful Italian setting.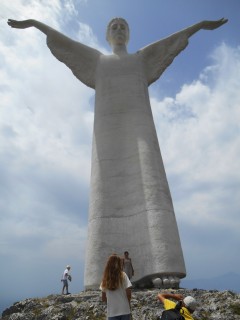 A tall white  statue of Christ, made of pure Carrara marble, sits on top of Mount San Biagio, 6-7km above town. It is also called Christ the Redeemer, or the Christ of Maratea and its shape can be seen from far away and far bellow.
In front of the statue is the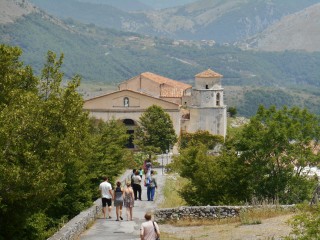 basilica of Saint Blaise and the view of the coast from this point is priceless and hard to part ways with.
If you arrive to Maratea with the train, a hike or drive of 1-2 km  will take you to the old town center, a place not to be missed.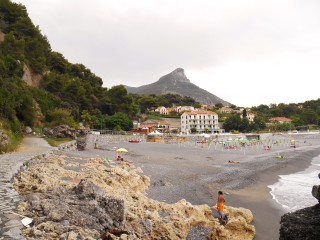 If you choose the beaches instead, you will have a few choices and the road from the station is all downhill. The train station has a big map of the area, the beaches and the caves right in front of the exit . The SITA bus station is also nearby and you can check the schedule in the station and maybe take the bus. If you prefer to plan ahead, click here to this link for the bus schedule.
I was fortunate on my walks, as I always found people who gave me a ride to every place I asked for directions to (stores and gas stations). I might not have made it to the statue and the church above, if not for one kind local that offered to be my tour guide. Thank you Mimo.