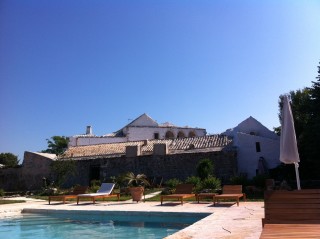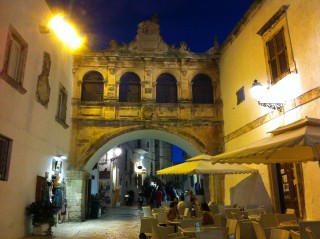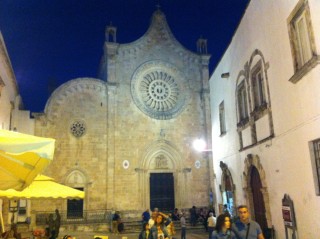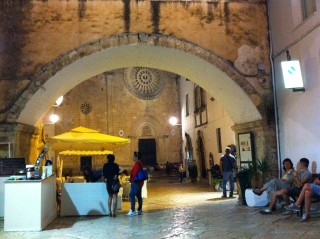 As my first day in the
Masseria Genovese
developed I realized that I was locked in behind the gates. Alone in the place, I climbed the stairs and took pictures from one easily accessible roof. I noticed a pool that I had not seen the night before, and I also realized that I would have to walk a lot to get to any city or village from here. All around are farms of olive trees and I could see only a few trulli and regular houses scattered in the distance.
Eventually Gianfranco, the owner of the Masseria Genovese (now a B&B) returned with Minerva, the new volunteer from Catalunya (Spain). She is a cute, smart, friendly and energetic 18 year old, which he originally thought was 21.  She is also here to practice Italian and she is very good at it. She studied the grammar, something I did not do, and we tried to speak Italian with each other, even if she does speak English well. Happy to have a good chance to practice the language with everyone!
Gianfranco's girlfriend, Maria Teresa, is a lawyer in Bari and she arrived a few days after us. The coming Saturday they had a party for about 30-40 people. A couple of guests also stayed for the night (140Euro per room).
Until the party, things were relatively good Masseria Genovese, except for being unsure of our day off in the beginning. The workaway page he has tells of an expected 5 hours per day of work. One comment by a person that volunteered here before mentioned an agreed 25 hours per week of work, which seems to indicate two days off.
Later, when we realized we are not given enough tasks in time to work the 5 hours straight, and learned that we were expected to work in the afternoon as well (after Gianfranco took his nap) we asked about the schedule. We were anxious to do some exploring of the surrounding areas and eventually schedule a trip to Alberobello. We found out that the 5 hours posted were now expected to be 6, and scheduled in such a way that we are at his disposition all day long, with no real time to plan life apart from here. Also, we were going to only have Sunday off, one day per week, as opposed to what he had agreed to with others before us.
To make matters worse, his flirting with Minerva made me uncomfortable. He and his girlfriend would also argue loud, on the phone at first, and later in person. Jealousy was involved, but they were civilized around us and would go far to argue or stopped when we were on site.
Gianfranco did not want to tell us his age, although he knew ours. He said he is younger than 50 and his girlfriend, Maria Teresa, much older. He said during Minerva's first night there, that he thinks he will have a child one day, but his girlfriend no longer can. Things got gradually stranger. Minerva was not concerned, as she regarded him to be too old for making a pass at her. She is smart and beautiful but young and inexperienced. The way he looked at her, laughed and touched her were obvious signs of trouble. When his "companion", as he called Maria Teresa, was around I felt better, even with all their arguments.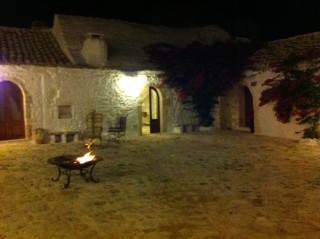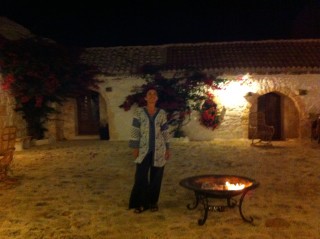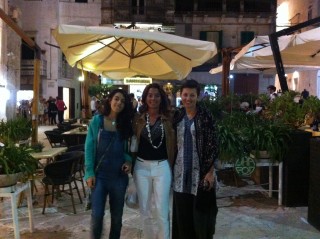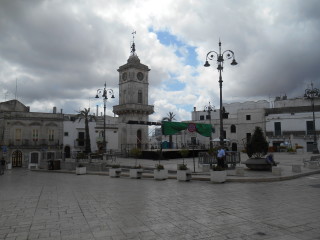 On the coming Saturday at the party, the work for us was easy, but we had to be available almost all day long. I took a nap at some point in the afternoon and he came to wake me up for doing some more electrical work for him.
Generally, every day he would disappear for shopping, sometimes a few times a day, and he would not tell us what he wants done when we finish the first task. Mid-day he went to his rooms, where we had no access, probably for a nap, and we had to work again after he returned. The work was easy but many long hours of combined  work  and waiting for new tasks. On top of not having time off to plan going anywhere during the work days, we could not get too far alone, as the farm was in the middle of nowhere.
At the party we set up the room and later picked up plates. We were treated like the other guests and could socialize and eat with them, as it was an open plate buffet. All went well until Minerva started speaking to Alan, a guy about her age. Gianfranco got mad and later spoke badly about the guy and all of his family. I do not know the guy but I met the sister and I liked her a lot. I also found out that the guy is first in the University in Rome, where he attends, and he speaks great English. How bad can he be? More likely, Gianfranco was jealous. Wow!
Even before this Saturday, I realize now, things were a bit off. He would want to see what I do on the Internet and seemed bothered that I use it. I had to explain a few times who I write to and why I need the net. Later he even told me that he did not promise Internet. I told him that he had it checked on his page as having a good connection, and that if not, I would have not come here, as I need Internet for my life away from home. He made previous comments about checking my background on line before taking me here, and about other people of my ethnicity stealing from people they worked for. He offended me badly one day but I chose to let it go and take it as if it were a joke. He is also training all of his three big dogs to attack and kill. The camera outside the gate is another thing that shows how paranoid he is. Yet, he did not show a crazy side until after the party, after Minerva had been talking to Alan. Later he would radically change moods. From screaming in the mornings, to acting like nothing happened in the evening, it became uncomfortable to be around him.
Every time Minerva would text he would get mad. He told us that Alan is not allowed here anymore and at the party he said to me that he could have hit him with a piece of wood.
We were told that he will take us to Alberobello on Sunday, as trains do not have a good schedule on this day and this was our only day off.  So we baked in the sun by the pool all day, waiting for that afternoon's treat. Later, as Gianfranco and Maria Teresa did not wake up in time from the usual nap, there was not enough time left for Alberobello. They already had tickets for an opera in another town, closer by. We walked around, waiting for the opera to end.
Told that maybe on Tuesday he will take us to Alberobello, we were content at first, but later he got mad about me wanting to see that town. Maybe I could understand, if I did not mention it in e-mails even before getting here. I told him then that this is an old dream of mine. I would not have come to Puglia in the summer if not for seeing that site. He made a big deal out of giving us another day off other than Sunday. Trains are not regular on Sunday and we would have to find someone with a car to take us there. And he becomes angry at any mention of the only other friend Minerva made here. Later he changed his mind back and forth about a possible Wednesday off, as he did not take us anywhere on Tuesday. Even as it seemed like he needed to go away all day on Wednesday, he finally gave us that day off, still condemning us for it.
Only because he thought that Minerva's new friend would take us there, he drove us to the train station – like a mad man on a suicidal mission. Once we got there, luckily safely, I dared asking how we get back to the masseria when we return. Will he pick us up? He angrily said to get Alan to take us home. I told him I know nothing of any schedule with Alan and he nervously replied to ask Minerva. I got out of the car, tired of the tension and the screaming, realizing that there is no talking sense to him. He drove the car off like a mad teenager, before Minerva could even close her door. She had to bang on the car so he would stop long enough for her to rescue her own backpack from the car's trunk.
When we returned to the B&B that night, seemingly walking all the way from the train station, he acted cheerful again. In reality we got a ride from a nice family that knows him and that even offered to help us in case we need a new place to go to.
He was taking me to the train the very next morning, so for me the insanity was ending here. But I was worried for Minerva. That night I stayed up late on the computer and I e-mailed other Workaway girls that had volunteered for him before. I was told of more very unpleasant, similar stories, even though all of those girls had been there with their boyfriends. One told me how Gianfranco kept complimenting her on her looks in front of her boyfriend. She said that he should not be allowed to have people to work for him as volunteers, as he does not know how to treat people. She thinks he treats them the same as he probably treated the illegal African workers he had working for him when remodeling the Masseria Genovese. Yet, the girls did not think he is dangerous.
I keep in touch with Minerva and she is OK. Maria Teresa is back again, so he behaves better. Minerva can see that he is still bothered by her going to meet Alan and his sister, but Maria Teresa has helped her with this issue.
What a crazy experience this was!
He is an engineer, lived for years in Asian countries, traveled three continents during eight months on a motorbike, has achieved quite a success in business, but is possessive and jealous of people that are not his girlfriends, children or even paid workers. Is this madness or is it called midlife crisis?! Some people from the area say that Italians in the South are possessive. They say that even though they themselves are from the South. Is this a general character trait in the Southern Italy? This is my second volunteering job here (the first one in Sicily) where I am puzzled and lost at understanding what is going on.
Clues anyone?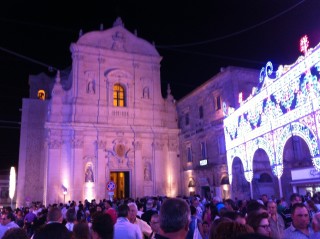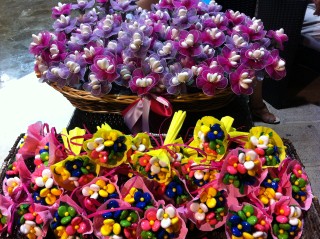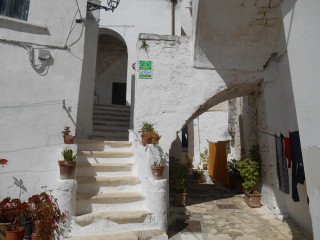 I accompanied the above story of my strange experience as a volunteer in Puglia, South Italy, by pictures of the cities of Ceglie Messapica, Ostuni and Martina Franca. Most were seen at night, when our host took us out, while in good moods.
Minerva and I also shared a pizza in a property Gianfranco owns and rents to a restaurant in Ceglie Massapica. I want to thank the people there for their kindness and friendliness.  The restaurant is called Trattoria Pizzeria da Angelo and I recommend it for the good and inexpensive pizza as well as for the good heart of the owners. Thank you Angelo and family! I hope to see you again someday.
Thank you Gianfranco for the pizza and the ice cream that you bought for us, for showing us a little around these towns, for sharing stories, your nice house and for the good times when you were in good moods. You have a lot to tell and teach and I wish I could have got more of it during your good moments. If you ever read this post I hope you will see how it all looks from outside your mind and I hope that it will help you understand better the people that volunteer; why they do it, and how you can have a better relationship with them.
Thank you Maria Teresa, for all the good food and cakes you made, for being around and smiling, even when you probably did not feel like it. I wish I could talk to you more and get to know you better.