I had to spend our Romanian Orthodox Easter in Chicago this year so I decided to find the Romanians and their churches.
There are a few Romanian churches here but I looked for an Orthodox one (not Baptist or Pentecostal). Its location was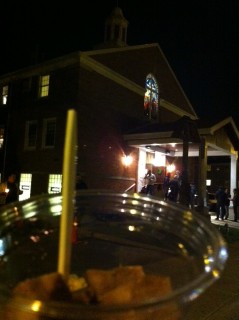 important as well as it had to give the possibility of following the Romanian Easter tradition, where the entire congregation follows the priest around the church at midnight. This was important to me as I spent the majority of my childhood Easters in my grandparent's village, and we always went to church on Easter night. In the village the priest and his congregation slowly walk around the church three times at midnight, carrying lit candles and chanting about the Resurrection. It is a once a year tradition that most of us, kids and adults alike, love to attend.
A little later, fresh bread in red wine is shared with all, symbolizing the body and blood of Christ. We all take some of it home for the next morning, too. It should be consumed the next day as well, before the food.
The effort put into finding the right church in Chicago was born out of a past experience in Hollywood, Florida, where I once attended a church set right next to a highway fence. As a result, the midnight walk had to take place around the parking lot instead of the church building. Symbolism and tradition were off and awkward.
So… I did find the right church last night! It is called The Romanian Orthodox Archdiocese . There were a lot of people in attendance. Parking had to be found on quiet neighboring streets, in front of homes where people were probably already dreaming in their beds at that hour.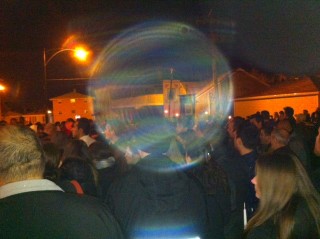 The church was full and many people were congregating outside as well. We bought candles and lit them. The time soon came when the priests came out and there began my surprise. We followed them around the church and, after one tour in a fast stride (certainly not an easy pace for the elderly), they resumed the ceremony, did the knock on the door part and entered the church.
Did they get tired walking too fast? Why not three times around?
I witnessed this "one time around tour" in Orlando a few years back as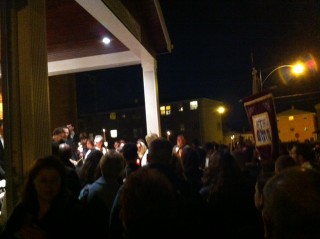 well. I found it unusual and seen it as a short cut. Now I wonder if this is done only in America (because people are in more of a rush here- LOL), or if this might be the tradition in some areas of Romania as well. I much more prefer the long version in this case.
Three times around the church seems the right way to me. Is it just my brain being trained that way and old habits die hard or what? One time around and at a fast speed seems so wrong to me! But it might be right to others if they have always seen it done this way.
To me it is funny that it came to this! I can almost not believe my joke a few years back is reality here. I was in the village in Romania for Easter, a few years ago. My aunt, my niece and I left the house late for the midnight Easter celebration at the church. My aunt was concerned that we were late and that the priest and the people might possibly already be out, slowly walking three times around the church. I jokingly told her not to worry, that we were walking so fast towards the church now that we could maintain our pace, and if they already had already completed two slow tours we can do three fast tours around all of them while they do one last slow one. She laughed picturing that and the awkwardness of it. She jokingly still blames me for making her laugh in church later, as she remembered the crazy idea.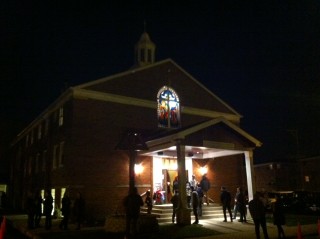 Last night in Chicago this was a real life joke to me as the walk was so fast. My candle kept blowing out from the wind generated by walking at that speed in order to keep up.
Back in the church more of the same followed. One of the young priests was walking too fast with the incense. People had to back out of his way so quickly that I am still in awe no one in the congregation caught on fire. We were still holding lit candles in our hands and it was quite crowded.
This was fun in a strange way, as tradition and habits were changed to a faster speed.
The fresh bread in red wine is great though!
Happy Easter! And as they salute in Romania today:
-"Hristos a inviat!" (Christ has risen!)
You should answer:
-"Adevarat ca a inviat!" (True that he has risen!).