Wild, wild west. That's the phrase that popped into my head as we walked into Vilcabamba, bags in tow. I was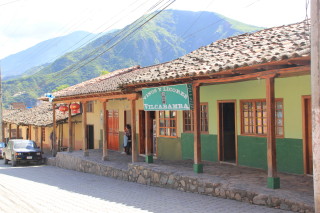 not sure where it came from but just acknowledged it with an internal smile, assuming it to be a relic from the archives of childhood memories watching westerns with my grandfather. Maybe it was from the directions we had received from our
Couchsurfing
host: "
From the airport in Catamayo, take a taxi to Ruta de Taxi at Once de Mayo in Loja. When you get to Vilcabamba, find Charlito's and have Charlie call me."
 Whenever "find a bar and have them call me", are the extent of directions, you know there is an air of small town camaraderie and laid back adventure. Not exactly wild, but more like
welcome back to "south of the border." Relax, take it easy, it will all come together
. (See 
Getting to Vilcabamba
for information on getting there).
We stepped out of the shared taxi in the parking lot, the single point where buses and taxi's from Loja pick up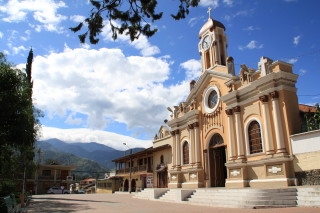 and drop off. Apparently these driver's do not venture out much from this point, as no one knew of Charlito's. However it only took a few short steps down the road to get a few different Spanish versions of "2 blocks that way, 1/2 block on the right." We stumbled upon Charlito's in a moment and almost passed it. Charlie was unaware of our directions to find him and request the call, but nevertheless greeted it with a friendly "not surprised" chuckle and attempted to make the call. Our planned host's phone was not picking up at the moment. We were hungry and Charlie was already great company. An expat who had resided in Vilcabamba for some time, witnessed a lot of change, seen many come and go, and was interesting to speak with. Good food at a good price: 2 soups, 2 burritos, 2 beers and a water + a little local education =$11 w/tax & tip. We were told the pizza was great but did not make it back to try.
Walking through the park across the town square of Vilcabamba, the "wild, wild west" phrase popped into my head again. I noticed a few men wearing wide brimmed hats, but don't think that is what set it off. Vilcabamba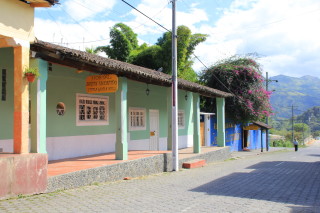 town square is small and easy to walk around in a few minutes, a few times even. Seemingly every restaurant, bar, and pastry shop we passed was occupied with expats, of all ages. We were told that Vilcabamba is one of the world's few Blue Zone's, where people live healthier and longer than average. However looking at the official Blue Zone site, as well as that of National Geographic, Vilcabamba is not on the list. Our gracious host and new friend told us there were people from over 30 countries living in and around Vilcabamba, many of whom, himself included, have experienced significant improvements in health after living there a short time. By the frequent odor detected in the air walking the neighborhoods of Vilcabamba in the evening, it very well could have been called a green zone for some as well.
Vilcabamba appeared on the surface to be clean, relaxed, friendly community of locals and expats a like. Not much wild about it, just people doing their own thing. In the mornings there were young expats in the central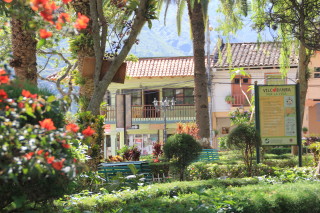 park feeling one with nature and displaying their interest in yoga and meditation for all to see. Not sure why they would choose to come into the most populated part of town for their morning ritual, but maybe they were looking to be noticed or find something other than morning solitude. We were told the Internet's self-proclaimed raw foods expert lived in the hills of Vilcabamba, as well as a few growing permaculture communities. A local cork board displayed ads with earthbag homes for sale. We were told there were some Cob homes in the hills, which we would have liked to have seen but did not make it. Again, not "wild", but more of "free."
We were told the story of a real estate deal with a tragic ending. The story varies a bit as the tale grows, but basically somebody gained a lot of money while someone else missed out on it. Something to the effect of the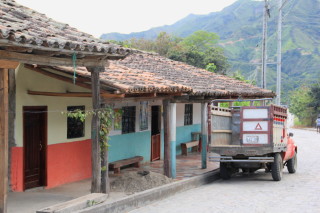 expat agent buying it low from a local and selling it high to a foreigner. Either somebody was miffed about paying too much, or somebody upset about receiving too little. Whatever the case, a fight later ensued that resulted in the death of the agent, with some questionable circumstances, and no arrests. Now that would fall into the category of "wild, wild west," but this is not a tale we knew of at first arrival.
On the topic of real estate, being a community highly populated with expats, the prices have of course been driven higher. Unfortunately, foreigners typically contribute to the epidemic by getting involved in real estate and raising prices on incoming foreigners, until prices cap. Even after the bubble bursts, prices are normally still too high for locals, nudging  them out of the market in their own native land. Some foreign owned homes in the Vilcabamba hills were for sale around the million dollar mark. A nice, 2-story house off town square rented for $600 month, while a house similar in size but different in style just outside of Baños was rented by another kind and interesting Couchsurfing participant for $150 month.
Out on an evening walk with our Couchsurfing host and new friend, he made the comment, unprovoked and right out of nowhere, "wild, wild west." Surprised and now intrigued, I had to give this phrase a little more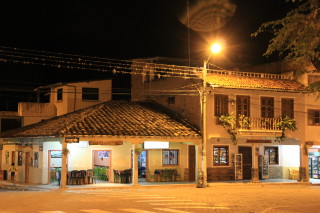 thought and pay more attention to the surroundings. The construction consisted of block long buildings divided into shops or homes, with wide, full length, covered stone walkways. Wooden posts supported a covered overhang attached to the buildings, like something out of Bonanza or Gunsmoke – just stone walkways rather than plank. Most men were wearing wide brimmed cowboy style hats, many with straps made of string hanging down onto their chest, with silver style couplings. With exception to the road the taxis and buses arrived on, and around the park, the remainder were dirt and gravel. It occurred to me: Partially in the construction, partially in the people. The look connected to scenes embedded somewhere deep in the archives of childhood memories, to those westerns I watched with my grandfather. Vilcabamba, Ecuador resembled the wild, wild west, just no so wild . . . and it is in color.
A few photos from Vilcabamba. For a closer look click once to enlarge, again for full screen: