Machu Picchu in Peru was my long time dreamed of destination. About 10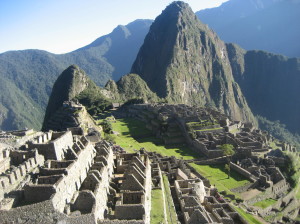 years of dreaming and postponing. Possibly waiting for it so I can still have a high dream alive. The best view and worth the wait it was!  I would love to wake up to it every morning. Unfortunately, as with the koala bear in Australia -for me the ideal pet to have but an impossibility- so it is with this view; one that not even billionaires can buy. But I did take all day in there and fell asleep lying down on one of the terraces – so I did experience waking up to see the marvel in front of my eyes. One of the most photographed sites in the world and I still have yet to see a bad picture of it. I do not know if anyone can do injustice to this site. I absolutely loved it and I would go back anytime. See the pictures and decide for yourself. Enlarge them if you will.
My adventure began in Lima. I walked a lot and enjoyed the Miraflores Arts and Crafts Market and Pueblo Libre Artisan Market. I chose an inexpensive hostel and the people that ran it were great in the way they treated guests. Knowing I was traveling by myself they gave me a dorm room and did not add anyone else. Sure, they cannot do that when the place is full, but it is always appreciated when it is possible. The place was not luxurious but the customer skills of the people that work there made up for any other issues one might find. Lima for me was just another capital and not the focus of my Peru travel. I spent 3 nights there and it was enough to coordinate my flights in and out of the country and use it as a base for the rest of my trip.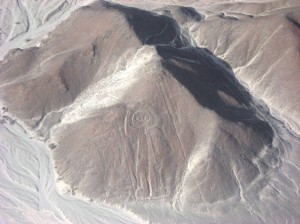 From Lima I had a nice bus ride towards Cusco, and on the way I stopped for a few hours to see the Nazca Lines. The bus was modern with large, reclining seats. I slept comfortably on my overnight ride from Nazca to Cusco. The bus sounded like a zoo in the morning, when people woke up and began  yawning. The bus attendant served us breakfast. The Nazca Lines are located about 200 miles south of Lima and to view them you will have to take a local air tour. There are plenty of small aircraft operators that will take you for a ride. I was in the plane with the pilot and just another passenger, a young girl that turned green during the flight, but did not get sicker than that. Even for me, working for an airline for many years, the small plane ride was hard to stomach at times.  If you have a good stomach and money you can pay for the approximate 40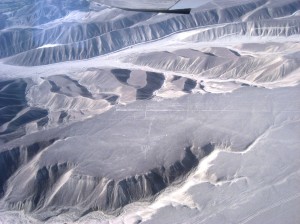 minute fly over to view the Nazca lines.  If you like mystery and appreciate Albert Einstein's thinking on it ("The most beautiful thing we can experience is the mysterious. It is the source of all true art and all science. He to whom this emotion is a stranger, who can no longer pause to wonder and stand rapt in awe, is as good as dead: his eyes are closed.") you might still want to dream of what the lines might be and not let the reading and information spoil the imagination and mystery. As for me, I had better dream and imagine, as I would not take that air ride again.

Discovering Cusco was a real delight. Reading about going to Machu Picchu you will always find it advised to spend a few days in Cusco for the purpose of getting acclimatized to the altitude. The city is located in the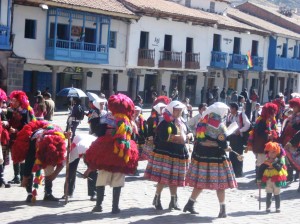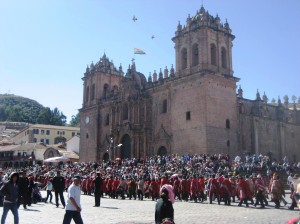 southeast of the country, at a near 3,400 meters (11,152 ft.) in the Andes mountains. I did not need to chew on cocoa leaves as many sites advise, nor did I have headaches or other issues, except for having a hard time going uphill. Yet, the city took me unprepared with all of the festivals I witnessed. June seemed to be a great month for that as I seen a lot of color, music and dance on the streets. Peruvian national costumes are varied and colorful and a true delight for the eyes and photo cameras. Same for the local markets that abound with bright and vibrant colors and where you can buy alpaca sweaters, gloves, hats and socks. You will need them mostly at night, when the temperature can be quite low. Massages are also inexpensive, and good.
The tour companies downtown can give you information as well as sell you a tour to wherever you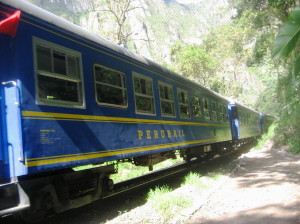 would like to go in Peru. You can take the easy way to Machu Picchu, in a train, or opt for a hike. I took a three day guided tour.  The first day was on bikes going down a steep mountain. Over the next two days we hiked to Aguas Calientes, stopping to visit local farms and learning about the coffee and chocolate production. Of course, I purchased pure bitter chocolate and even more sure, it disappeared fast.
Aguas Calientes is also a beautiful town. Booming with tourists it seems to expand under your very own eyes. If only we did not have to get up at 3:30 am to make the hike to Machu Picchu in the dark. We walked uncounted numbers of steps in the complete darkness, only guided by other people's flash lights. All that to be of the first few hundred people at the entrance upon opening, so we can get a ticket to Wayna Picchu. Goal achieved, for me the hike there was enough. My Wayna Picchu ticket went to our tour guide to give to someone that felt up to the task. I was there to enjoy the view, not to kill my feet and lungs trying to achieve something I did not care for. The view was perfect from where I was. LOL
Click here or on the post below to read the memo from Machu Picchu I wrote that day, as I took the computer along for the hike. The Machu Picchu photo gallery is at the bottom of the memo.
Latest Posts
Q: What is the best way to travel from Lima, Peru to Vilcabamba, Ecuador? Response: Just spent a little time in Vilcabamba, Ecuador this past April. We stayed with a new friend through the Couchsur...
In short, yes. Both are, and if you are backpacking through South America then why not hit them both. Not sure where you are beginning your journey from, however as I am sure you are aware Peru and Ec...
"Can you imagine waking up and opening your eyes to the amazing sunny site of Machu Picchu somewhere below you? How lucky you might feel to have under your eyes one of the most wonderful sites of this...
Read more