It has to be a place with the nicest people… I was thinking of Ecuador, as I decided to visit this country. After years of sponsoring children from different countries around the globe and receiving letters from them, one Ecuadorian girl got to me through her letters. Got to me to such degree that I had to meet her. Knowing I will do that in the near future, as she was approaching the age where she would graduate out of the program, I called the organization and asked for another Ecuadorian girl, so I can visit two kids there. This turned out to be the best thing I could have done as the other girl, Nicole, and her family marked me for the rest of my life. They were some of the most genuine, sweet,  nice and grateful people you could ever meet.
As Guayaquil was the most inexpensive place to fly into Ecuador I landed there with my colleague and friend Dana. She was exited to see Galapagos and even if not on my list for this trip, I knew I could possibly accommodate that into my schedule as well.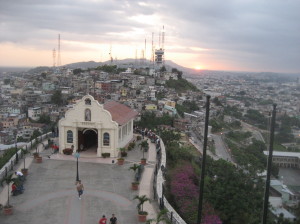 We enjoyed the downtown area and the boardwalk as well as the Ecuadorian food in Guayaquil. The empanadas that we had walking back from the Las Peñas Lighthouse were the best we ever had and I will forever crave them. They were cooked in a house by the street and the inviting smell filled the air announcing their existence way before we got to see them.  The lady cooking was selling them at the window but there was the option of entering the house and eating there. Gladly we entered the place and after each one I ordered one more. I do not even remember when I could stop. I hope she will still be there when I visit again. I want to introduce others to them. The kids were playing on the street and the air was warm. The locals were enjoying meals and each other in local inexpensive restaurants and the colors were comforting and homey.
Visiting Nicole and her family was another day that engraved itself in my memory with warmth and love and I will go back there again. I miss them almost every day.
Dana and I stayed in the Hotel Suites Madrid and the location was excellent, in the center of the town. The manager, Christopher, is one of the most intelligent, professional and mature young men I have ever met in my travels. He helped us book our entire trip to Galapagos- hotels, boats, airplane tickets- without a glitch- even though we had two very different schedules, and could not find at the last minute two spaces in the same boat. Yet we still had to get there together and meet at the end even if our length of stay and destinations were separate while there. And on top of that we paid with separate and different cards for each transaction. I would recommend him without hesitation to anyone that needs a tour while in Ecuador. If you go to Hotel Suites Madrid someone will call him even if he is not in at the time. He will show up within minutes to take care of you.
All in all my stay in Guayaquil was great and I long to return.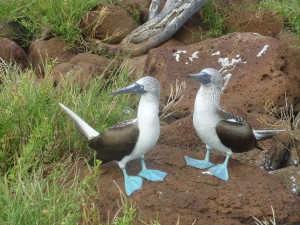 Galapagos for me was good while on the islands but my stomach did not enjoy the boat. I would not do that again. I was not a happy camper but for Dana the experience was magnificent. She witnessed birds in the mating season and watched the mating dances. She took fabulous pictures and enjoyed the explanations and information of a very knowledgeable tour guide and scuba diving instructor. She partied on the boat and had ginger tea to calm her stomach. She was pursued by the boat's cook-and that she did not care for but she had fun.
From Galapagos we flew into Quito and delighted in visiting the old town,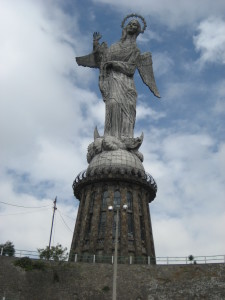 the local art galleries and markets, taking the cable car to the top of the mountain,  a tour to the angel statue of the Virgin Mary which stands on top of a hill overlooking the city.  Quito is a beautiful city in the middle of the mountains and the views are breath taking. Anywhere you turn you will see higher lands and colorful neighborhoods. The higher you go the better the view and in most of those areas, the cheaper the real estate. Food was healthy, good and inexpensive and fresh fruit juice was just pennies. Ecuador is a country of color and the paintings and weaved carpets were real eye candy.
From Quito I took the bus to Baños and I need to go back there as well. There I had the best massage of my life and it was so inexpensive. The hot baths are another cheap and relaxing place to enjoy and there I made new Ecuadorian friends that invited me to visit and stay with them next time I visit. We did not even speak the same language but they were beautiful people and their little daughter was a doll. Baños has a lot of activities to try. You can jump over the bridge on elastic cords if that rocks your boat or just be boring like me and simply walk or bike around town. The downtown streets are great for that and even the cemetery on top of the town is worth visiting, as it seems to be a miniature town in its own right.  There are a lot of expats that own businesses here and have made a new lives in a laid back and inexpensive country. You will find a foreign-owned Indian vegetarian restaurant,  school bookstore and  Chinese owned acupuncture and medicine. I spoke with all of those owners and enjoyed their stories. The last one was challenging, as I had to understand a mix of Chinese and Spanish and I do not speak any of the first and little of the later.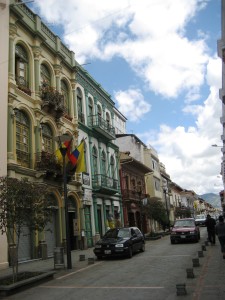 Cuenca was my last destination in Ecuador. Expecting too much, I set myself up for disappointment. The hostel I found was bad, and arriving at 1am on a Sunday morning did not serve me well.  Sunday is a quiet day in Ecuador, or at least in Cuenca, and with everything closed I could not shop for food or find a place to wash my clothes. Bad planing. However, the fresh juice, ice-cream and food restaurant near the church was open and everything was delicious and still inexpensive, even though a bit more expensive than Quito or Guayaquil. Maybe because Cuenca is a smaller town and lately invaded by tourists and expats? It has two nice churches and parks, clean streets and a nice river- and by the same intersection near that river I repeatedly ran into new foreigners looking to relocate here. LOL
Latest Posts
Read more