Sometimes we get carried away and buy too much. Once in a while it is nice to offer some of the local, maybe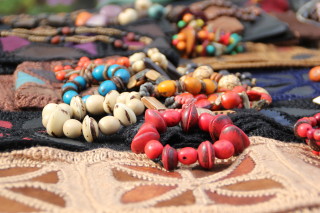 exotic, always unique, items we purchased in far away places for sale. Let others enjoy a little of the flavor of those places. In this case it is mostly jewelry for sale: Organic, handcrafted, direct from Ecuador.
Making our way through the northern villages of Otavalo and Cotacachi on a trip through Ecuador a few months back, we picked up a fair amount of interesting tagua seed and orange peel jewelry from the colorful local markets. Hand made by the indigenous Ecuadorians, these unique pieces are of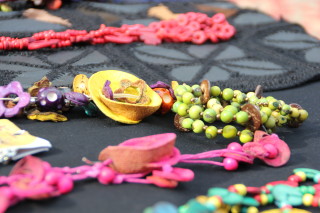 natural, organic material: necklaces made from colored and dried citrus peels, bracelets made of native woods and/or seeds taken from the large fruit of the tagua palms. We bought more than enough to go around for personal purposes and are therefore selling the rest. All of the Ecuador jewelry for sale that we are listing is new, unused, and in great condition. In addition to jewelry, we are also selling a few scarves and leather goods, also authentic, handmade, unused, and purchased in either Otavalo or Cotacachi during our last visit through the Andean cities and villages of Ecuador.
Travels With Miha is not a retail sales or commerce site. The citrus peel necklaces, earrings, tagua seed bracelets, and leather items for sale are simply a personal overstock. Therefore, we have listed the following items (and more) for sale on E-Bay, for less than what we have seen the same or similar selling for on-line (1/2 to 1/3 of what we have seen in the very few stores that carry similar organic jewelry from Ecuador and South America). To purchase any of the jewelry for sale and/or other items, simply click on the photo below for redirection to E-Bay (or click here to see all, which may additional items not shown below).
Citrus Peel Necklace / Earring Sets and Tagua Seed Necklaces:
Handmade Scarves with 4 or 8 piece Leather Inserts:
Tagua Seed and Wood Bracelets: