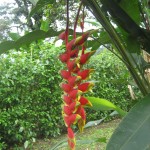 Small but beautiful, Costa Rica  is versatile and developing rapidly. As an editor who once lived in the country, operating a US based publicly traded company, return visits come filled with mixed emotions. As infrastructure improves and develops,  some care-free freedoms are reduced while amenities, prices, and populations are increased.
Yet from a travel perspective this is still a wonderful place to visit. Hostels and inexpensive lodging can be found, and one can pick anything from rustic, limited, to luxury resorts and anywhere in between.  Fresh fruits and vegetables are abundant, picked ripe and flavorful in their natural state. The coffee and rum are excellent, the people are quite friendly and helpful, and the myriad of mini ecosystems allow one to basically choose any climate they wish.
Favorites include the beautiful and picturesque secluded pink beach with turquoise waters located within Punta Leona, just south of Playa Jaco.
While Punta Leona is not available to the general public, other great locations are, such as Playa Conchal. Now the home of the large, luxurious Melia resort, we used to access this sea shell white beach by going to Playa Brasalito and walking south through the brush.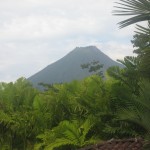 Vulcan Arenal is a beautiful region, lush with green hills and colorful flora and fauna. If you sit quietly, you can hear a variety of birds contributing to nature's symphony.
Tabacon Hot Springs maintains a lush landscape and beauty second to none.
Back in the main city of San Jose, in the suburb of Escazu, is the beautiful hotel 
Posada El Quijote
, quitely nestled on a hillside just outside of the hustle and bustle, self-sufficient with an elegant living room and view of the city.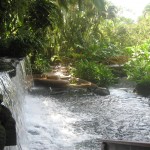 When staying in the city I always make at least one trip to the restaurant
 Le Monastere
, whose owner, Vicente, boasts a fabulous founding story. For a traditional visit to one the country's oldest and most beautiful restaurants, lined with exotic woods, take a trip to Ram Luna in Asseri above Desamparados.
Too much to list all on one page, as with any place visited frequently or extensively.
(Written by contributing editor. See posts for Miha's favorites, and other locations such the Orosi Valley, cable cars in Braullio Carillo Rain Forest, and others).
Latest Posts
Read more