With lots of land and truly unique sites to explore, Turkey is a big time favorite of mine. It was one of the first countries I visited after the borders of my own country opened up for all the restless gypsy hearts.  At first, I only visited Istanbul back then but seen on a postcard another site that got me intrigued and longing to come back for more . The place on the postcard was called
Pamukkale
and I memorized the name.  It looked like pools of water set in ice terraces, however people in bathing suites were in there and the sun was shinning bright. This made it clear there was no ice present.
Many years later, luck and the energy of thought at work together, I got to visit Turkey again. Many times. I then discovered many other wonderful corners of Turkey and I still feel like I am not totally done. Each country I see and like has still so many secrets to share, and so many more corners to uncover.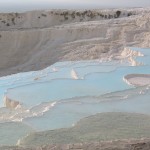 Yet in Turkey I fulfilled my childhood dreams and got to feel like a kid again. From lodging in caves that were people's homes, to sleeping in tree houses, and bathing in travertine hot springs, I did it all and I would go back to revisit in a heartbeat.
I highly recommend watching a sunset from the height of the Pamukkale's ancient city of Hierapolis, where people bathed for thousand of years. Getting a feel of the history and the circle of life repeating time and time again in the place is priceless.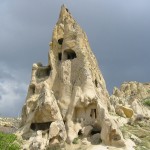 Another place not to be missed is Cappadocia (Kapadokya under its Turkish name. The site is unique as well and hot air balloon rides area  great option for a wonderful aerial view. Volcanoes erupted millions of years ago and the resulting  rock near Göreme  eroded into amazing shapes that resemble tens to hundreds of mushrooms, minatetes and pillars. (See Cappadocia post for some amazing images of Cappadocia).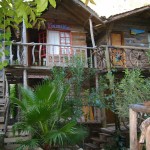 The tree house adventure in the region in the south of Turkey, beginning in the region of Antalya, by the Mediterranean Sea, had a particular flavor as well. Antalya, Kas, Bodrum, Patara, Fethiye were along my path and they were all unique in their own way, with the last one named here being my favorite – Fethiye – where you can take a 3-day cruise to Olympos.
Olympus (Olympos in Turkish) is a place that welcomes you with hundreds of beds in wood cabins or tree houses, with a  summer party and disco dance atmosphere, and an Indiana Jones like path of vine covered Roman ruins to the nearby beach. So you can feel like a child again sleeping in a tree house.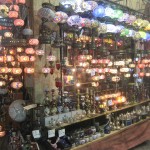 And last but certainly not least, Istanbul …. the dynamic cosmopolitan metropolis straddling two continents, has so much to offer. The colors, smells and sounds of new and old. The vendors calling out loud, pitching their product, the taxi drivers honking horns, the smells of spices and fresh baked goods, the many old mosques and churches-Blue Mosque a must see, the Topkapi Palace, the colorful carpets and the Grand Bazaar. They all are like a magnet to my soul and I find myself going back over and over again, never to be disappointed. Yet I still remember a younger me that was terrified by all of it many years ago. The men's attitude there and then was a turn off at the time. The older and confident traveler that I became knows now the lessons to be learned and a big one was being able to say no with no feelings of guilt. You certainly can not buy all that is offered and care to give time to all men that try their luck with you. I say half  jokingly now that Turkey is the country to go to if you are a woman with low self esteem. You will gain confidence there if you like men approaching you everywhere on streets. Men half your age might do that, too. LOL  Yes, there are so many men in Turkey, and Istanbul tops the charts for the most men with a "nothing to lose by trying" attitude, indeed. Learn to say NO or enjoy the attention. It is up to you if you are a woman. Do not ask me how men visiting there have it. Hee! Hee!
Latest Posts
Read more