Romania is a beautiful country, rich with a diverse landscape and architecture. The result of multiple foreign occupations throughout its long and tumultuous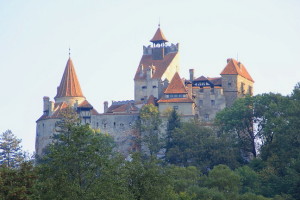 history, from a time of Kings and Queens to communism and freedoms, Romania is dotted with historical gems. From medieval times to royal families into the 20th Century come the gift of castles and festivals; from the Austro-Hungarian occupation come the plazas with their European architecture and clock towers. Left over from the communist regime are the very plain, square, gray, abandoned and dilapidating factories, offering a glimpse of the doldrums of oppression. Yet, visit the capital city of Bucuresti and the architecture of the era mixed in with pre-communist construction contributes an interesting mix of massive and powerful structures.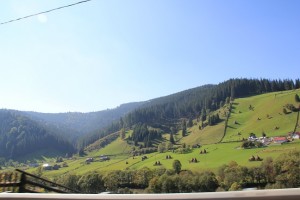 Travel the countryside and the landscape itself ranges from predominantly flat lands to the west with fields of sunflowers, to rolling hills of noticeable blue/green, outlined with fences and the iconic haystacks, to mountain regions of Romanian villages and the thickly pined Carpathians.
The North-Eastern region of Romania, Moldova, besides its beautiful rolling hills landscape and grapevine trimmed houses, is home to many old 13th to 15th century monasteries, many of them hand painted, including those commissioned by the famous Stefan Cel Mare (Stefan the Great). Visit the monastery of Voronet and see the origins of the color Voronet Blue.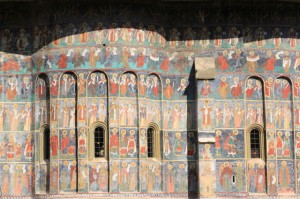 No matter where you are at in Romania, you must try a variety of the fresh made, delicate and decadent pastries. Overnight stays in some of the "pensuine" (B&B) of northern Romania is a wonderful way to meet local people. We had a memorable stay at the home of  Stelu and Codrin, Pensuine Agroturistica Cerbul, in the northernmost town of Putna, and would recommend it to anyone. Rooms were clean and comfortable, and we started the morning with an inexpensive, abundant breakfast consisting of more homemade fresh cheeses, pastries, spreads and herb tea than one could possibly consume.
Latest Posts
Read more