France we first visited, my mother and I, in April-May 2003. It was the destination my mother chose for a vacation together, since she was denied a tourist visa to visit me at my new house in the USA.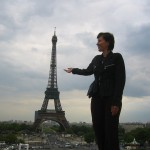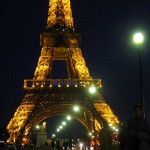 The trip she chose in 2003 was a 10-14 day trip throughout European countries with Paris as the final destination. We crossed and briefly stopped in Hungary, Austria, Germany and Luxembourg on our way to Paris. Beautiful view along the way, in a long and tiring bus ride with a great guide and many other tourists from Bucharest.
On the way to Paris we had the chance to visit two of the most impressive and beautiful cathedrals of the Gothic style, the Notre-Dame Cathedrals in Reims and in Strasbourg. Of course, Notre-Dame de Paris was undoubtedly the most visited and popular of them all as it was also located in one of the most desirable and romantic cities on Earth.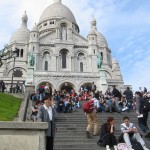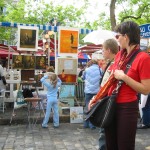 As most tourists, we visited L'Arc de Triomphe and strolled on the Champs-Elysées, visited the Louvre Museum and Musée d'Orsay, seen the Palace of Versailles and the Eiffel Tower, took pictures on daylight and came back at night, took the ride to the top of the tower and enjoyed the city view from above.
There is so much to see in Paris and we could use more days for it all. A Moulin Rouge Cancan would definitely be of great interest when I will go back to Paris.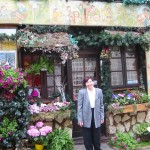 I also long to savor again the ice cream filled crepes in the company of my mother, watching the artists and their drawings and paintings in the relaxed bohemian Place du Tertre, a short distance from Mortmarte's Romanesque-Byzantine style Basilique du Sacré-Coeur. Those were our few relaxed moments in the rush to see more and more of the city and it's churches, museums and palaces. I'd love to be able to go back in time for a few more of those Parisian minutes in the 2003′s spring sun, enjoying the crepes, with my mother again.