Today I met some special people.
Thank you Universal Power! I had the best experience and I am grateful to you! You are awesome!
Lands of sunflowers in the dawn's sunlight are left behind in a fluid wind like rush of a Romanian train called "The Blue Arrow". I am on the road again, on my perpetual move trough this wonderful world of ours, dreaming away, thoughts going back in time, to the busy hiking day in Costesti, Hunedoara.
My day began late as I took a while to get out of bed and of the house I paid for a night in.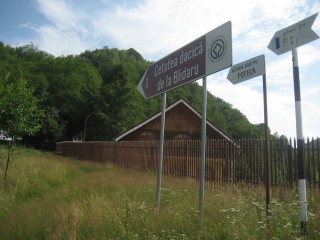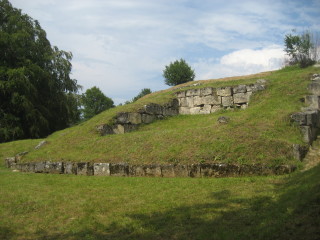 The two citadels near the village were on my day's hiking plan and the first one proved to be a bit of a challenge for a person not used to the mountains, with the road going just up and more up on a path through a forest. Finally there, Blidaru Citadel -Cetatea Blidaru- reveled itself to my eyes, lonely, peaceful and still partially hiding mysteriously in dirt and grass, on top of a hill.
I found a central spot in the middle of a low stone wall, all which is left out of an old house-tower. I relaxed in the grass, meditating in the sun, bothered at times only by small insects landing on my bare arms. By the end of my meditation I heard loud talk and came to the realization that there is human life around. Two men and a woman were watching over the place but they were taking their lunch under a hidden tree when I arrived. The man began cutting the grass with the old hand held tool still used in this ancient land. The woman asked me to buy some postcards or brochures of the place as there is no entrance fee here, but the need of supporting funds exists.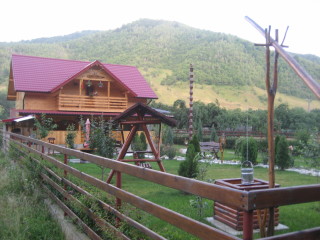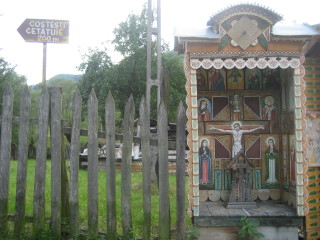 My way back down was faster and easier. By the bottom of the hill I found empty cans and bottles that spoiled the view. So I picked them up and they got unloaded in the front of the nearby police station as there was no trash bin around on the way to the other citadel. In fact, two young and cute police officers told me to leave them there, as they will get them later.
The way to Costesti Citadel -Cetatea Costesti- was less abrupt. Taking a tour around it I spotted a big burgundy mushroom that I picked up to take pictures of in a different spot.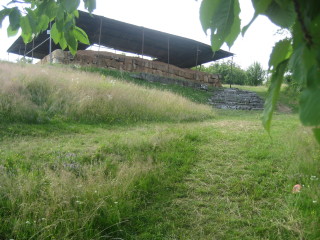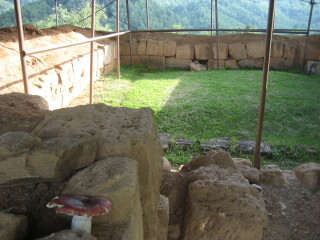 Magic mushroom, as it connected me with some very special  souls: Cristina, Christian and their son and parents.
The son asked me about the mushroom and later Cristina began a conversation. She told me that her son has always connected her to people that later became her great friends. Besides, she was intrigued by a woman alone in here. It was Cristina that looked to talk to me. I was not particularly open to meeting tourists that day. I was looking to meet more locals as I had an interest in this place and wanted to learn more about the land and what it is for sale in the area. I am thanking Cristina for her openness and determination as I gained a lot by getting to know her.  She has a great story and she is truly special. Always open and aware of the synchronicity surrounding her, she is full of life, excitement and truly loves people. She has a great story and an amazing life of giving.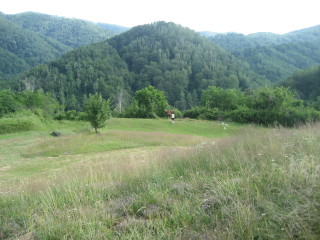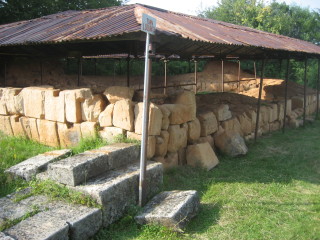 Student of medicine in Bucharest, years ago, at 22 years of age she asked herself the real question: "What do I REALLY want from my life?" She came to an answer that could create disappointment with her parents as they had their own dreams for her life. She knew they sacrificed a lot and put a lot of hope on her becoming a doctor. Yet, she also knew her father followed his own passion and she knew how to approach him. Amazingly open-minded for that time in Romania, her parents understood. She went on volunteering with medical organizations, helping ill children and morally supporting their parents. She did finish the university but never worked as a doctor, yet this selfless and non-materialistic path took her to a life of passion and excitement, later meeting Christian, a French man that follow the same road, getting married and together creating a successful foundation.
Thank you Universal Power for this day and this encounter. If I had to hike ten times more the upperward going mountains it would be all worth while.